Series
Roller size
Model
Tube Size
Min Width
Max Width
Min Height
Max Height

Remark
SMT-ZB-085A/B
85mm
Motor/Manual
60mm
≥0.8M
≤2.5M
≥0.5M
≤2.5M
SMT-ZB-105A/B
105mm
Motor/Manual
70mm
≥0.8M
≤4.0M
≥0.5M
≤3.5M
When width>3.0M the height≤3.0M
SMT-ZB-130A
130mm
Motor
95mm
≥0.8M
≤6.0M
≥0.8M
≤6.0M
NOTE
When the width≤0.8M the max height<2.0M, when the width≤1.2M the max height≤3.5M

Smartex Zip Blinds minimum gap feature means that you get a more comprehensive protection against the sun's UV rays, glare, drizzles, draughts, debris and even insects. Not only that, the screen also performs an insect repellent role when closed, allowing you to enjoy good ventilation in your house without worrying about insects invading your space. All the Smartex solutions are fully automated for homeowners to control the temperature as well as protection against UV rays, glares or even annoying reflection at the tips of their fingertip.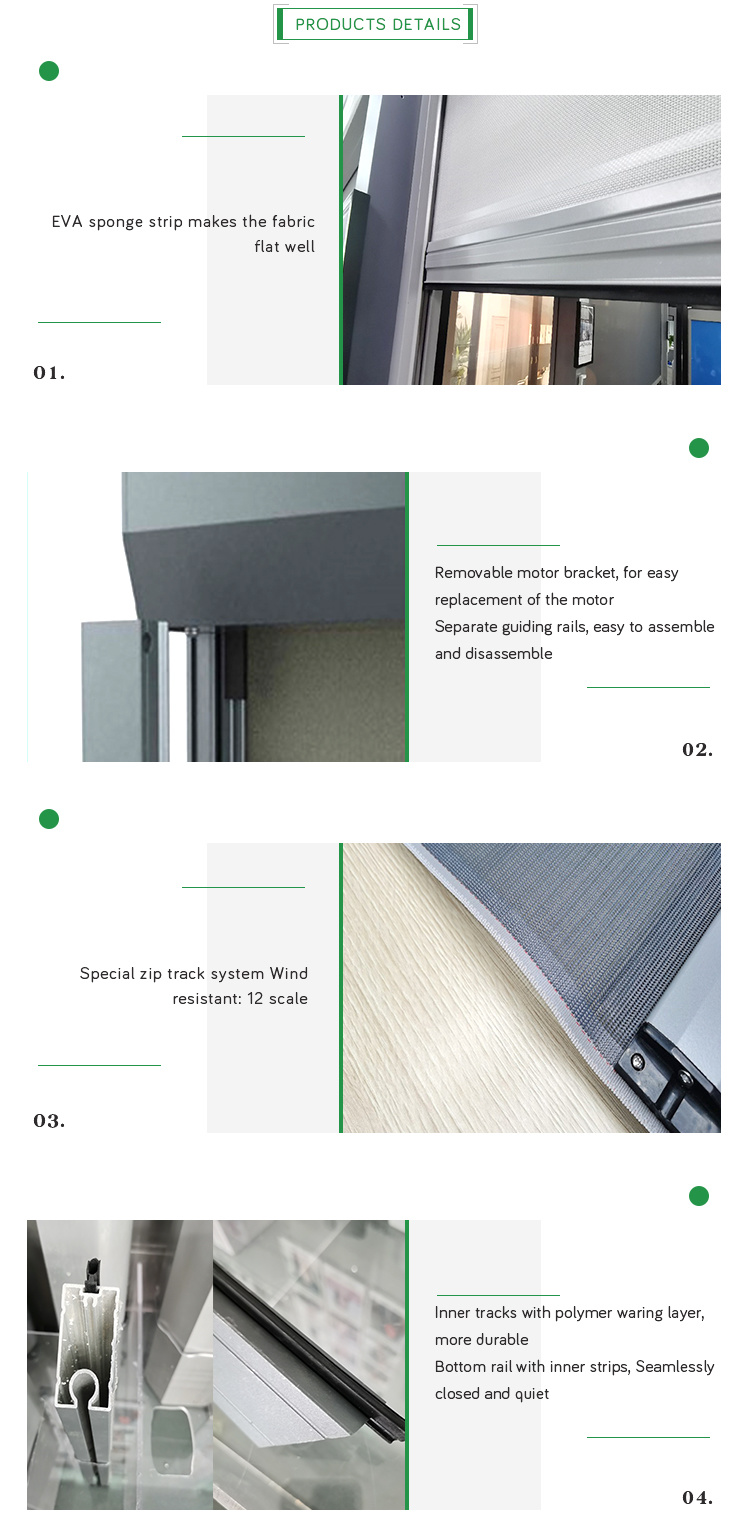 1.Are you a factory or trading company?
We are a factory.
2.What is the material quality of the net ?
Most use glass fiber PVC coating net, also has the part of products use polyester net as
well as the wire net.
3.What is the material of the main frame of your product, and ifsuitable for the different kind
of window frame and door frame?
The material of main frame is aluminum alloy and the net is fiberglass mesh with plastic
accessories. Our products are suitable for the window frame or door frame of various materials.
4.What is your color available?
Color available from RAL or real color sample
5.When will be the proper time to install the retractable insect screen during house decoration?
In general, either stage will be ok. But do it before fitment starting is better.
6.Why choose our factory?
1.Offer competitive and reasonable price.
2.Professional technical and design team by qualified enginner.
3.Delivery without delay.
4.Good after-sale service.
7.How can I get some samples?
A: We are honored to offer you samples.
8.How does your factory do regarding quality control?
A: Quality is priority. Our always attach great importance to quality controlling from the
very beginning to the very end.