High Performance Aluminum Roller Rolling Roll up Window Blinds Shutters malaysia
Hurricane shutter, storm shutter, roll up shutter, storm door, hurricane shutter window, hurricane shutter door, have gotten the Proofing Hurricane Patent in China.
Roller Shutter Perfomance:
| | |
| --- | --- |
| Slat option | Hurricane slat 55, 56,120,140mm |
| Rail option | 68,76,120,140 mm hurricane guide rail |
| Motor | 40 ~ 300 Nm (tubular motor), 500KG-2000KG Chain Motor |
| Common colors | White, cream, grey(All kind of styles and colors are adjustable to users' requirements. ) |
| Opening ways | Manual, electric and remote-controlled operation, After the window opened, the oppression like in cage and stain in vision will be off. |
| Surface Finish | Powder Coating |
| Material | 6063T5 aluminium |
| Warranty | 2 years for motor, 15 years for surface treatment |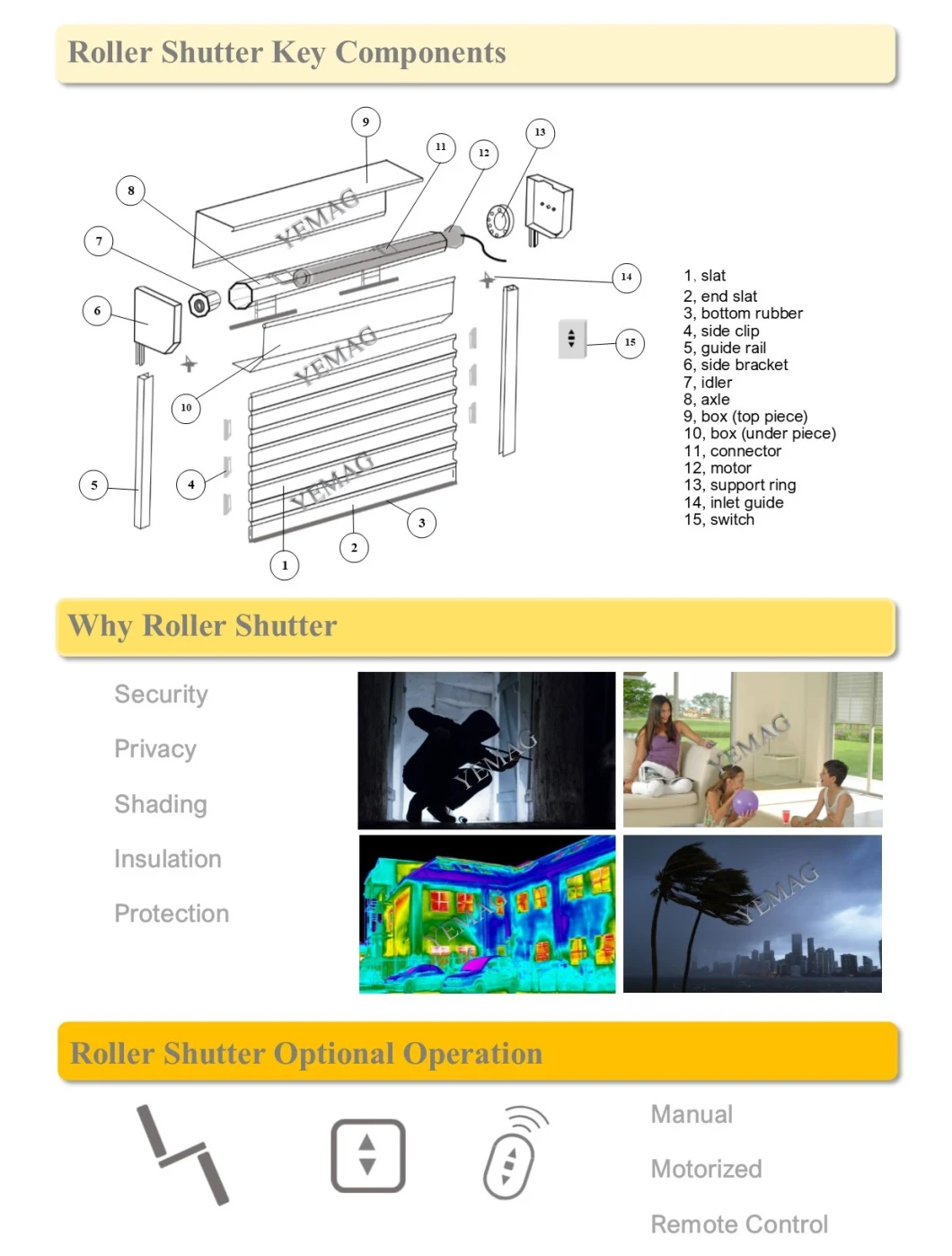 Quality Control:
(1) Material Select: Using 97% purity aluminum ingot
(2) Production Standard: Highest standard in China
Delivery time: 15-35 days (negotiable)After-sales service:
1)We provide the damaged components freely during the guarantee period, and the freight beard by the client.
2)We offer the components at our cost price beyond the guarantee period.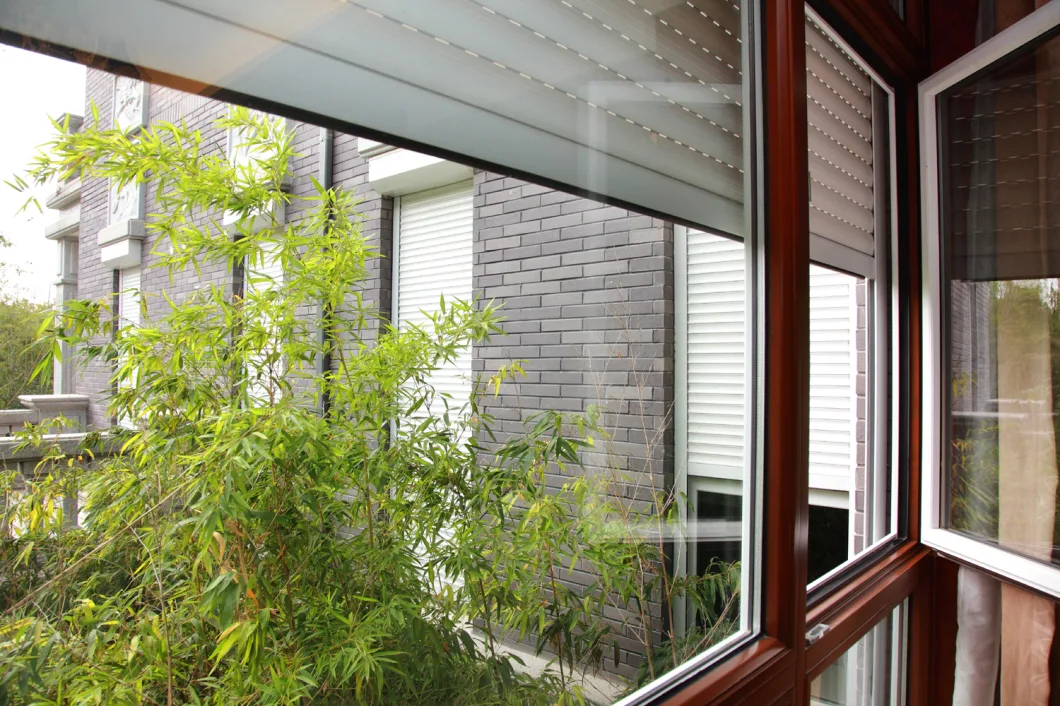 YEMAG ROLLER SHUTTER ROLLING SHUTTER:
Combined prevention and protection with decoration functions, Rolling Shutter is a new generation product that will effectively replaces the traditional thelf proof nets.
The automatic roller shutter can be opened with flexible opening ways that include manual, electric and remote-controlled operation. After the roller shutter opened, the oppression like in cage and stain in vision will be off.
Save energy design, when the roller shutter closed, can saving 30% energy, obstructed 96% sunshine.
Insulated roller shutter are ideal for situations where energy conservation and protection agaainst the elements, extreme noise and a high level of security are primary consideration such as:
Warehouses Distribution centres Garages / factories Equipment noise partitioning Paint spray booths Maintenance buildings Storage facilities Car ports
Widely used for roller shutter window and door, garage door, industrial door, commercial door, residential security window, storage door, store door, shop door, Home security window and door, hurricane shutter, storm door.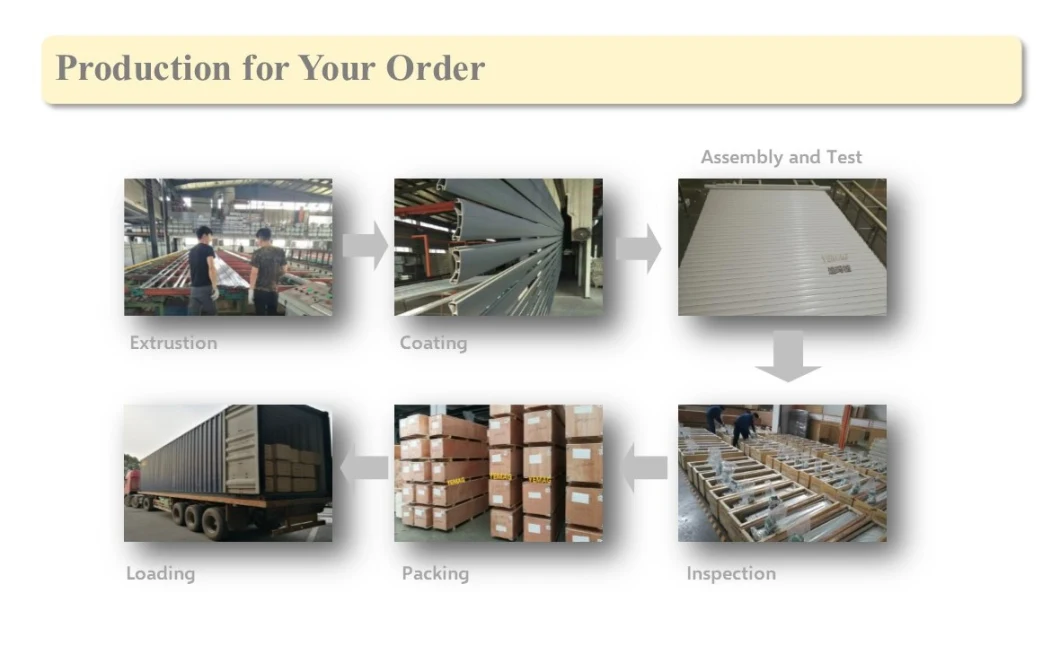 Company Introduction:Changsha EMG Construction and Decoration Materials Company
is a professional company dedicate in
Architectural Shading Solutions, Roller Doors, Window Protection Solutions for Hurricane and Security,
Building Facades, Window System, and floor carpet.
Founded in Shanghai January 2009, Shijiazan Smart Shading Limited Company(Shijiazan) is a key components and solution provider for manufacturers of solar shading products including control systems, shading fabrics, metallic spares, and floor carpet. To provide professional and dedicate services to our worldwide customers, Shijiazan take the new brand of YEMAG® and take the company as Changsha EMG Construction and Decoration Materials Company.
EMG dedicates on providing spares and professional solutions for manufacturers and contractors from
windows/façade/shutters industry. We provide CDK(complete knock-down) and Ready to Installation solutions per our customers business for a minimum local labour works.